Utah-kin to Me?
After departing our rim-top campsite, we headed south to Page, Arizona. This little town borders Utah, which can be a real bitch when you consider Arizona doesn't abide by the laws of "spring forward" and "fall back". Regardless of this cosmic indiscretion, we trucked toward the alluring Horseshoe Bend. If you are unfamiliar with this natural monument, Horseshoe Bend is a unique portion of the Colorado River that winds through a segment of canyon-esque cliffs in a horseshoe shape. The river can be viewed from its 3200-foot vantage point on the edge of the cliffs. Perhaps the most unnoticed, yet remarkable, aspect of this spectacle is the deep blue and green shades that make up this part of the Colorado River. After seeing what one would imagine is basically all of the Colorado River (I've seen about 15.8 miles total), you just assume the whole thing is gross brown mud water, but it's not.
Horseshoe Bend is located right off of highway 89. It is an easy .75 mile "hike" to the overlook, making it 1.5 miles round trip. I use the term hike loosely because it was more of a downhill walk in sand, making it accessible to anyone who wants to see it. This also makes it a popular tourist destination. When we visited, there were about 200 people representing nearly 40 different countries. It was really cool, I heard the phrase "don't go too close to the edge!" in 14 languages. While it may seem like a cheezy stop on an epic road trip, it was well worth it and something I recommend anyone do if they have the chance. However, I would recommend going on a clear evening because the sunsets are allegedly incredible. Unfortunately, we were #blessed with a sunless sunset.
Since we have been camping for so long, we have a pretty good sense of when its going to be dark, and Page was giving us all the classic signs for impending nightfall. We had to find a place to setup camp soon or we would be forced to fumble around in the dark. Luckily, Page is an epicenter for extremely close and cool outdoor recreational areas. Ever heard of Lake Powell? Us too. And it was close. And there was a beach. And camping is permitted. And we camped on it.
Lake Powell is partially in both Utah and Arizona (again, the refusal to spring forward came into play). The beach we chose to camp on, Lone Rock Beach, is located on the Utah side of the lake. When we arrived just prior to sunset, we were surprised to find the area was fairly crowded with spring breakers (again, something we welcome in most situations). We found our plot of land, popped up the tent and even setup the fancy annex attachment that we use when we plan on staying in one spot for more than one night. We had dinner and went to bed early, ready to hit this gorgeous lake in the morning.
By the time we woke up, most of the campers around us had left. The sun was out and the lake was practically begging us to paddle in it (doggy style, too). I should note that Mila and Bosley love beaches in general. Bosley (aka White Lightning) in particular likes to show off his wheels while running circles around us. Mila just likes chasing seagulls and the fact that there is water she can jump into if she so desires. We assembled our watercrafts and started testing the waters (literally). The kayaks haven't lost a step since we last used them in Florida. They still float. At first we tried to kayak with just me in one, Brooke and Boz in the other and Mila as photographer since she had the GoPro on her back and is an avid swimmer. Although we stayed close to shore, Mila was anxious to keep up with us, so she rode shotgun in my kayak.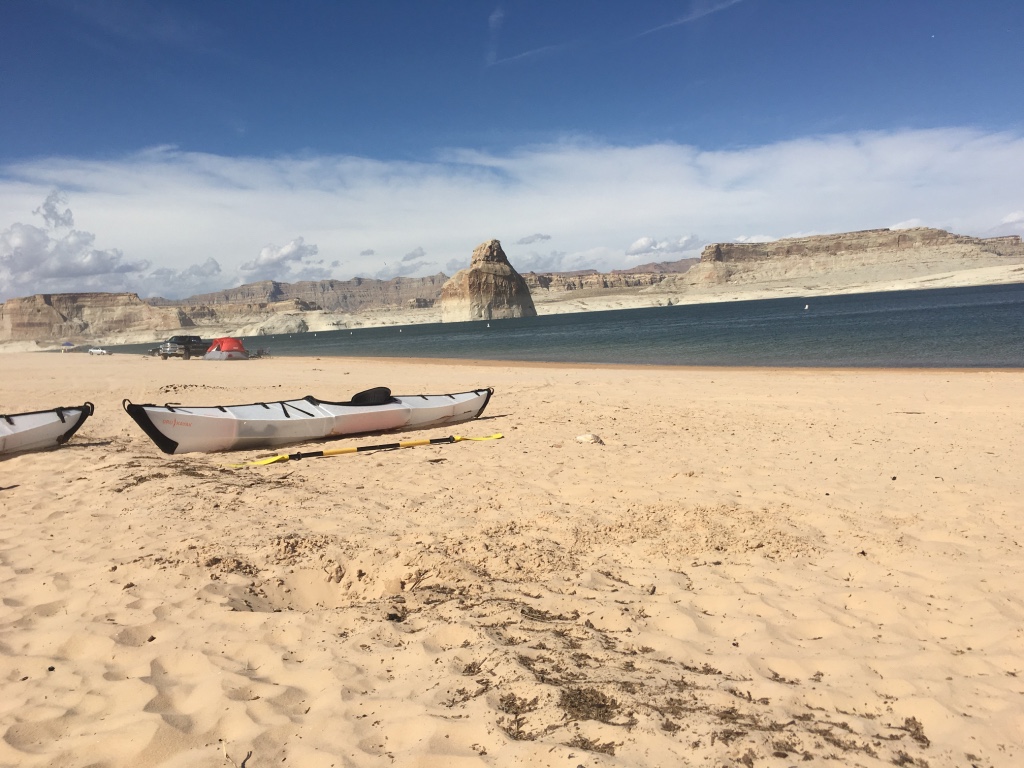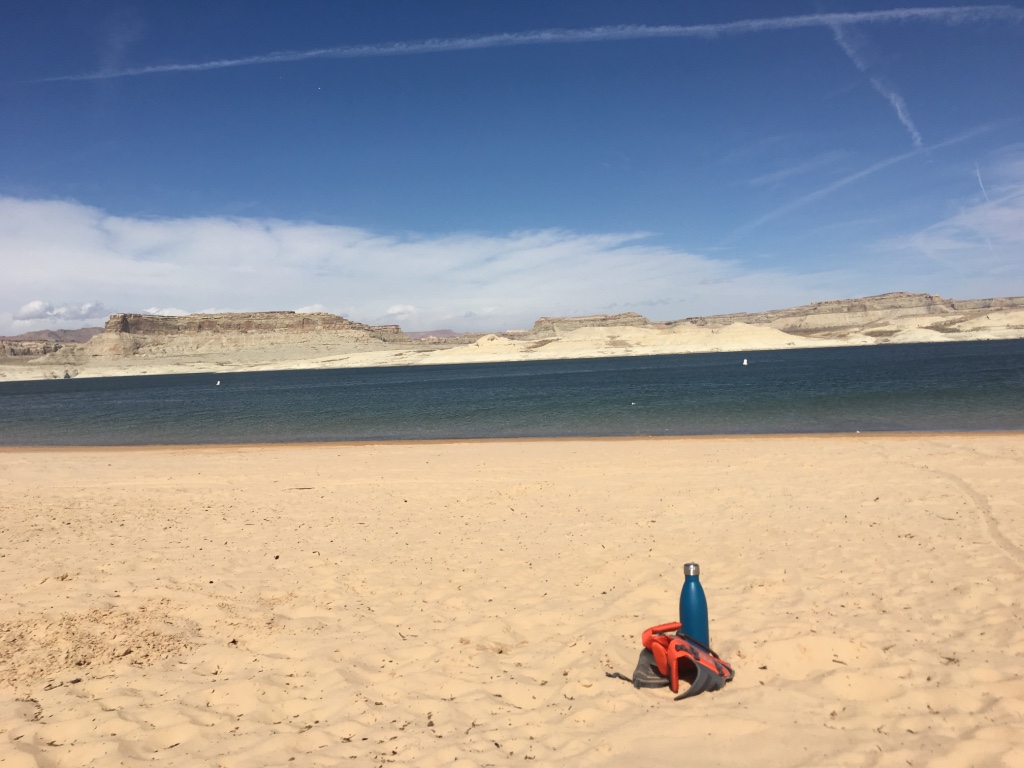 The scenery around Lake Powell is amazing. Beautifully colored rock surrounds the water, making it that much more enjoyable when frolicking around the lake. The day was shaping up to be perfect. We had sunshine, the lake to ourselves and plenty of time to read, work, cook and play. Then Mother Nature decided to throw us a curve ball: DESERTNADO.
It was nearing dusk, and Brooke and I were relaxing in our tent after a long day of physical activities in the sun capped off by the 'yaking when we felt a strong gust of wind. It isn't uncommon to experience wind in nature, so we weren't concerned. At first. But then the gusts became stronger and stronger. After nearly half an hour of constant gusts around 20 mph (with a forecast indicating they would double overnight) we started to worry about our tent sustaining structural damage. Then, in the midst of our debate as to whether or not we should pack up and move, we felt the wind shift the truck in the sand a little. That's when our packing drill started. We hopped off the roof and started frantically gathering our belongings and loaded them into the truck for an immediate evacuation. Upon stepping onto the beach we once called home, we were greeted with sand whipping up on our faces and into our eyes and mouths. We got on the necessary gear (aka Buffs and snowboarding goggles) and got to work. Not only did we have to break down the tent and annex attachment, but we also had to disassemble our fancy origami-stye kayaks (a task difficult enough without wind) and repack the whole truck. With Mother Nature's lisp adding difficulty to every movement, we powered through the haze of sand to secure our belongings. I'm not sure how long it took us, but it was by far the fastest we had ever broken down camp.
That night we took refuge in a Walmart parking lot (everyday low prices) and dined on enchiladas and margaritas from El Tapatios, a highly regarded local Mexican restaurant.
The next morning, we were anxious to escape that parking lot and conquer Buckskin Gulch, presumably the world's largest slot canyon. If you haven't been, the twists and turns of Buckskin Gulch, as well as the intersecting trail of Wire Pass, are things that cannot be described adequately in words. But that's why God put cameras in our iPhones (and GoPros and DSLRs). Take a look at the five miles (out of 15) of mostly narrow passage we traversed. Take special note of the boulder barricade - that was about a 10-foot drop that we had to hoist Mila up and down. She was absolutely terrified.