Sleeping in Seattle
Seattle was exciting for two reasons. One: My mom was visiting. Two: We were staying in a real hotel with real beds, a real shower, a real gym and half-real breakfast! After picking my mom up late from the airport (wouldn't want her thinking the road had changed me), we headed to the hotel downtown to freshen up for dinner. It was Cinco de Mayo and we wanted to celebrate this Mexican holiday in traditional American fashion with chips, salsa and lots and lots of margaritas. To everyone's surprise, every Mexican restaurant in the city was packed, so we settled on a totally normal second choice: a Mediterranean restaurant that was serving Mexican cuisine for the night.
After calling it an early night, we awoke bright eyed and bushy tailed to take on the famous Public Market. The market was filled with flowers, fresh fish and tons of other goodies for sale. We also stopped by the first-ever Starbucks. Although Seattle is advertised as "one of America's most dog-friendly cities," it was proving difficult to find activities the pups could join in on, so we hopped a ferry to Bainbridge Island. The ferry ride across Puget Sound with views of Mount Rainier was beautiful. Bainbridge Island was very quaint and a nice change from the hustle and bustle of the city. We had a lovely lunch of quesadillas and nachos on the water, grabbed a few beers at a taphouse and then caught the ferry back to Seattle.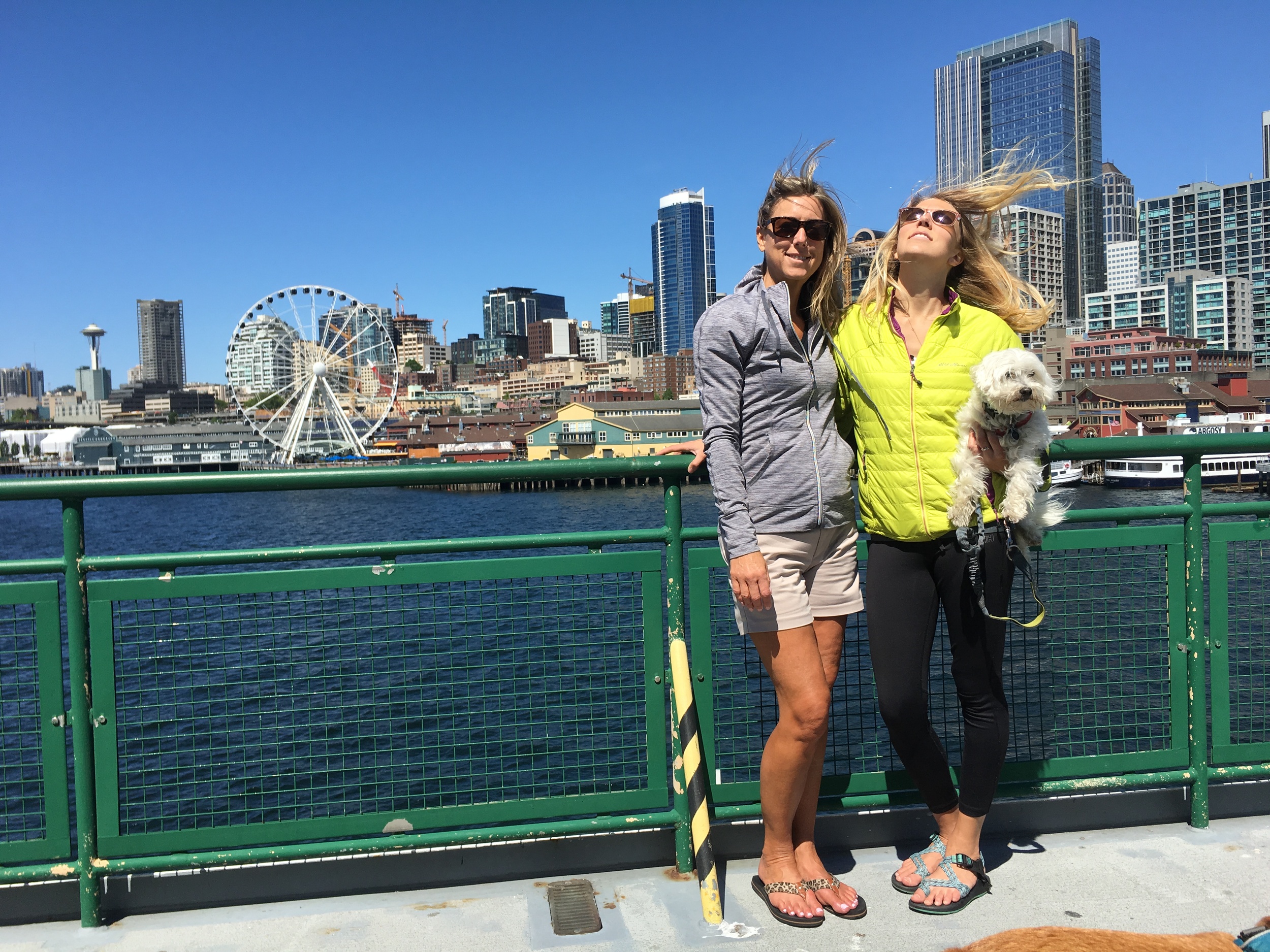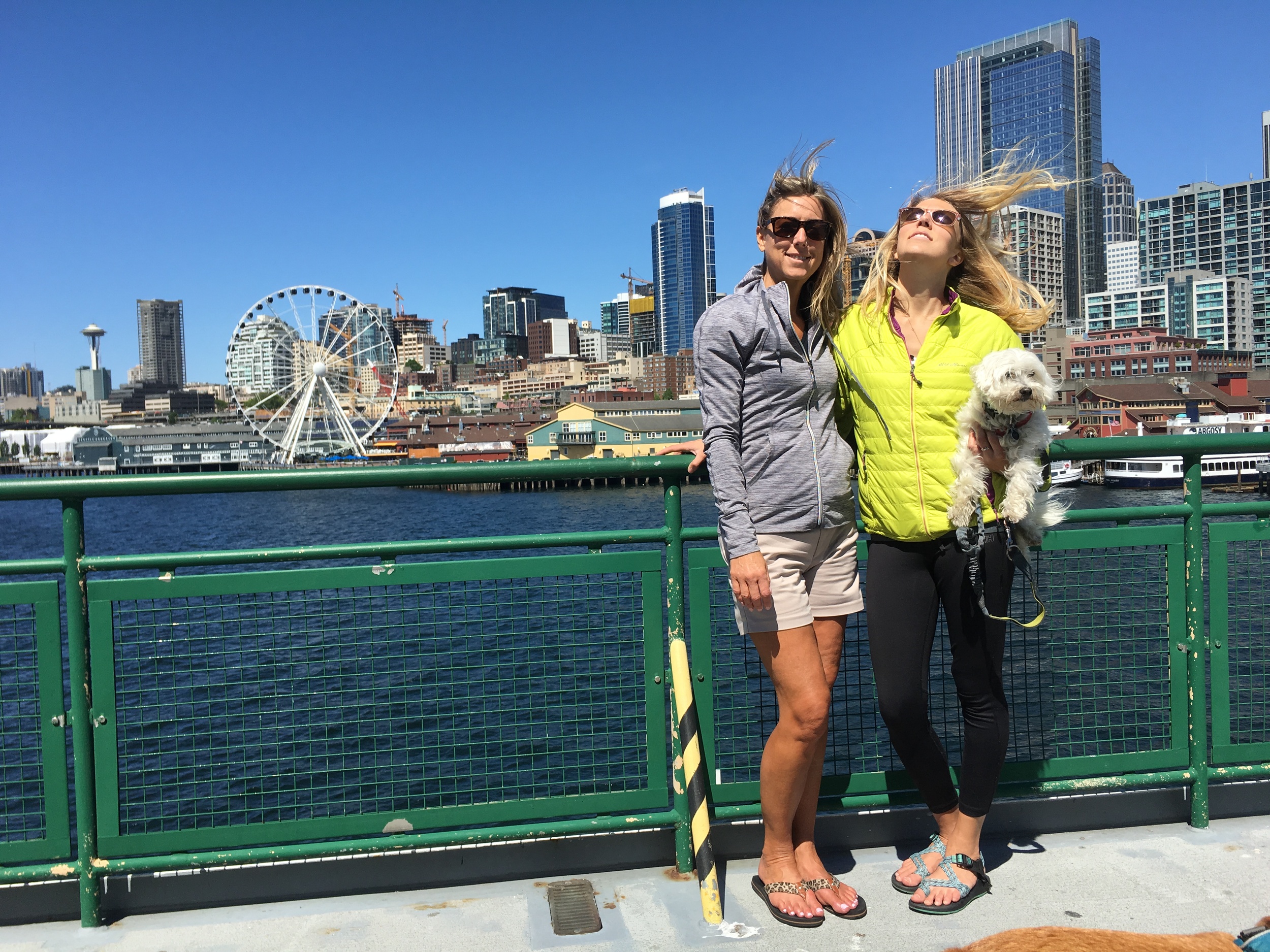 We can only assume my mom had already grown sick of us, because she volunteered to watch the dogs while Matt and I went out on a real pup-less date at an indoor restaurant for the first time in forever. While the pups got in some QT with grandma, we had dinner at a trendy restaurant named Ten on 9th, which had delicious frites, mac and cheese and craft cocktails.
In the morning, we took off for Olympic National Forest (the national park does not allow dogs). It was a few hours drive, especially since we took the wrong route and had to turn around. We found a good place for hiking and figured we'd get in about 3 miles before it was time to check into the cottage where we would be staying. We hiked through the beautiful forest all the way down to the river before deciding to turn around.
On our way back, we figured we would take a detour that we had passed on our way through. We had seen both the entrance and exit for the detour, so we assumed entering from one end would take us to the other. We were wrong. At some point, we lost the trail. We got to a small creek and across the creek was a fork. We took the trail that looked more traveled. We kept hoping we would end up back on the main trail, but it was clear we were way off track. Without cell reception, my mom began to worry and lose faith in us, but Matt and I were optimistic we would make it out of the forest alive. Bosley and Mila had no idea we were even lost. The trail ultimately ended at backcountry road. We began hiking up the road and after about a half mile we finally made it back to the truck, having hiked neatly double what we had planned.
When you travel with Bonnie (my mom) you travel in style, so the cottage we were renting for the night was immaculate. It overlooked a lake I don't remember the name of and the sunset was gorgeous. It even had a doggie door and fenced in play area for the pups. We sat on the porch as the sun went down and enjoyed chips with dip and some local beers. Surprisingly, that night was the only time the entire trip I could see the Milky Way. In the morning, we said our "Happy Mother's Day, Bye!"s as we dropped my mom off at the airport and went in search of our next plot of land to live off of for the night…