The North Cascades: A River Runs Through It
After a relaxing weekend in the windy city that never sleeps, Seattle (shout out to Bonnie "Bonfire" Van Poppelen), we continued north to our final camping destination in the lower 48: North Cascades National Park. Located in the Skagit Valley, the NCNP is home to the Cascade Mountains and many beautiful lakes and rivers, the most well known being Diablo Lake. Since it was the beginning of camping season for this region of North America, we were basically the only people in the park for most of our stay.
Another perk to it being the beginning of the season was that the majority of camping in the park was free for the duration of our stay. We found a campground (Goodell Creek Campground) with good cell reception (important) and river access (importanter). We scored a site that was located at the furthest end of the campground with maximum tree coverage and privacy from other sites, level ground (important), and a path that led from our site down to a "private" riverside beach where Mila could get in the water and try to catch ducks and fish as practice for the bears and moose she would be hunting in Alaska (importanter). This campground is definitely in competition for the best on the trip.
We went hiking two of the three days we were there (Stetattle Creek Trail and Ross Lake Trail), seeing only a handful of people on each of the trails. We were lucky to have visited during this time of year. However, by the end of our second day, the park was starting to fill up.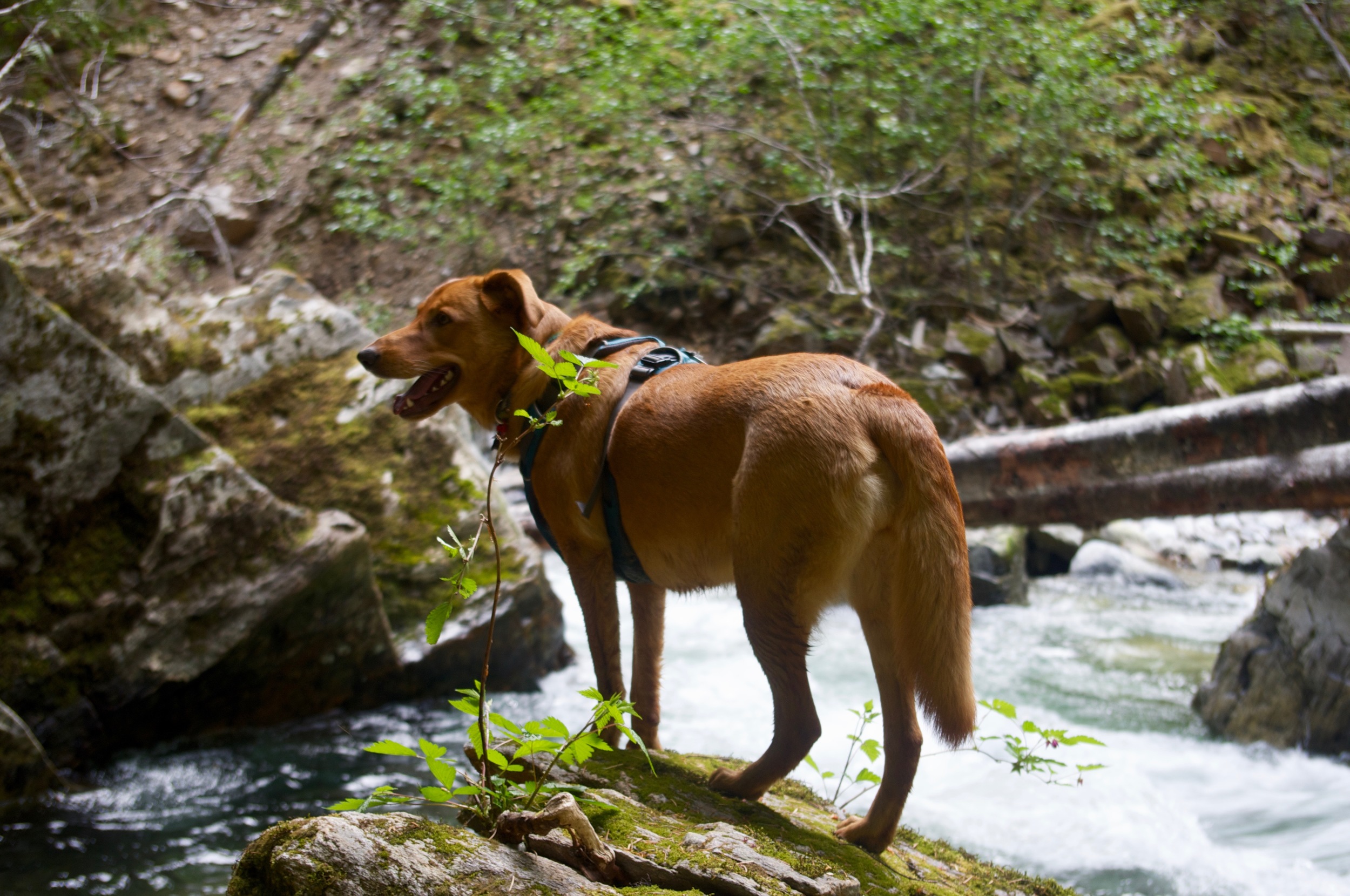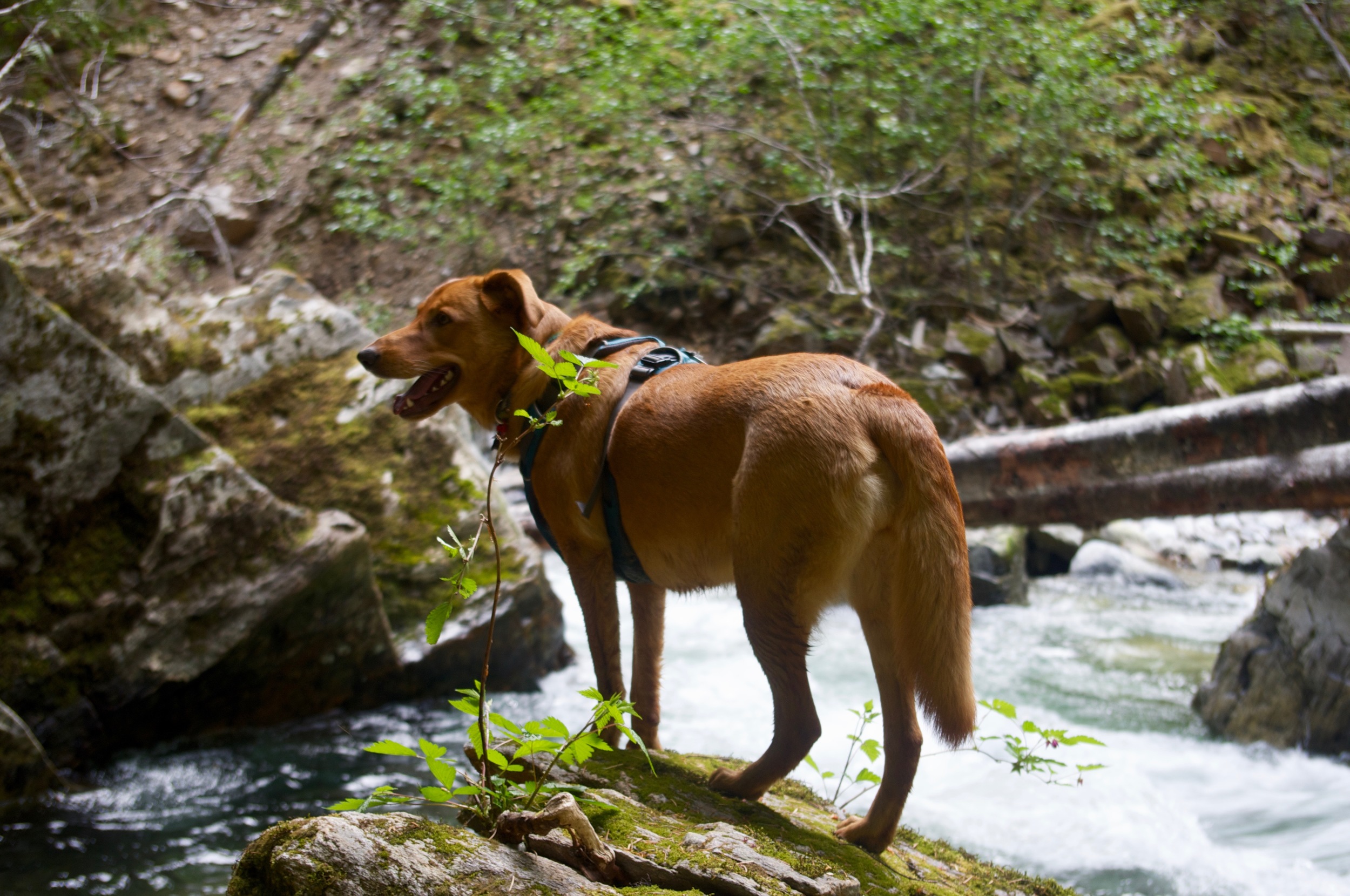 The campground nearest to us finally had occupants, although we didn't meet them right away. Fortunately for us, Mila loves to go to other people's campsites uninvited to do some introductions and preliminary security checks (when you camp with Mila, you camp in safety). When she first saw two figures walking around the site she didn't hesitate to give them a (not) friendly bark and sprint over to them for a routine sniff and ocular pat down. I chased after her to ensure the people she was rushing towards weren't afraid of our guard pup, leading to my favorite introduction that has been used far too often this trip, "Sorry, she's nice, don't worry". Turns out the campers next door were two girls around our age, which is nice since our neighbors are usually senior citizens living out their RV dreams.
I want to take a minute to let you know that throughout our entire trip, starting in Florida or earlier, we have had to deal with one vexing question every time we meet someone: "Where are you from?" Rather than spewing the usual "I'm from Dallas, she's from Detroit... blah blah blah," we just went with "Dallas" on this one. Except this time when we returned the question, their answer was "Detroit." Not only was their answer Detroit, but they were from a very specific part of Detroit: The quaint city of West Bloomfield. That's right. These girls hailed from the same township as Wilderness Revival's very own Brooke Van Poppelen. The hometown connection was unbelievable. What are the odds? Don't be a smartass and say 1 in 300,000,000 because it's probably not that high, but it's up there.
Our final night was spent with good beers and good company, and although the Dallas Stars broke my heart and crushed my soul by losing another playoff series to the trash city of St. Louis, it was still an amazing few days spent in one of our nation's most beautiful national parks. With our time in Washington coming to an end, we packed up and got ready to cross the border. Oh, Canada....