Keeping It Trillium at Mt. Hood
Let's face it, any jabroni can camp in a rooftop tent and live to see the next day. We needed a true test of our survival skills, so we backpacked to our next site on Mirror Lake near the base of Mt. Hood in the hippy paradise of Government Camp, Oregon. The hike to the campsites was only about 1.5 miles in, but there were large gains in elevation on this trail. Also on this path, past Mirror Lake where we were camping, was the summit of the famed Tom, Dick, and Harry Mountain.
Although daytime temps were reaching the 70s and constantly sunny, there was still a decent amount of snow packed along the trail, which only got deeper as we neared the summit. For Mila, this added to the excitement of the hike. For the rest of us, not so much. We completed the hike to the top just before sunset. The summit of Tom, Dick and Harry Mountain is well known for its incredible view of Mt. Hood, and we were there at the perfect time. Unfortunately, so was a large cloud. This white mass of condensation blocked the peak of Mt. Hood, and was moving at a slug-like pace across peak while we (mostly Bosley) froze our tails off. We waited for as long as we could but had to make our way back down the trail to our campsite before the sun set. All in all, the hike was about 4.5 miles roundtrip.
As the sun dropped, so did the temperatures. Unlike the other parts of Oregon we had been camping in, the Mt. Hood/Government Camp area was still in mostly winter conditions. There was no dry wood or foliage around us, and even some snow patches still existed in our campsite. It was extremely difficult for us to keep a fire strong enough to cook our food. We brought the Jetboil to boil water for the instant mashed potatoes, so we figured we could just use it to cook the Brussels sprouts and chorizo as well (an odd meal, we know). But then things took a turn for the worse.
The Jetboil ran out of fuel in the middle of heating up water for the potatoes Things weren't looking too good for us. We had not much fire, not much food, not much hope for survival. With only a meager amount of cold soy chorizo, mashed potatoes, and raw Brussels sprouts, as well as Goldfish, Rice Krispies Treats and Oreos in our bellies, we headed to tent to see what the night had in store for us. With Mother Nature's cold, wrinkly hands grasping our youthful bodies we tossed and turned in our sleeping bags. The cold was tortuous. What sick games are you playing with us, Gaya? We thought the boy had turned into a pupsicle. Mila was even close to shivering despite her thick layer of blubber. If it weren't for melatonin and gulps of Fireball, we would have never fallen asleep.
We were surprised to awaken unscathed that next morning. It appears that nature's test of our will was over, and we were to resume normal activities. We hiked back to truck with a sense of accomplishment. Our most difficult backpacking venture yet. We grabbed a hot cup of joe from the local espresso station, and headed to Trillium Lake to spend the afternoon sunbathing. However, needing to find a campground before nightfall, we only spent a short amount of time there and decided we would return to Trillium Lake for the entirety of the next day.
The campground we ended up finding that night was called Barlow Creek and was located in the Mt. Hood National Forest. We drove over some pretty rough terrain to find our spot deep in the woods, but it was worth it. It was a large campsite with nothing but a fire ring made of rocks and a large log for sitting. It was also on a shallow creek and had a large open space for Mila and the boy to play in. And, thankfully, it had tons of very dry wood so we could have a huge bonfire to make up for the night before.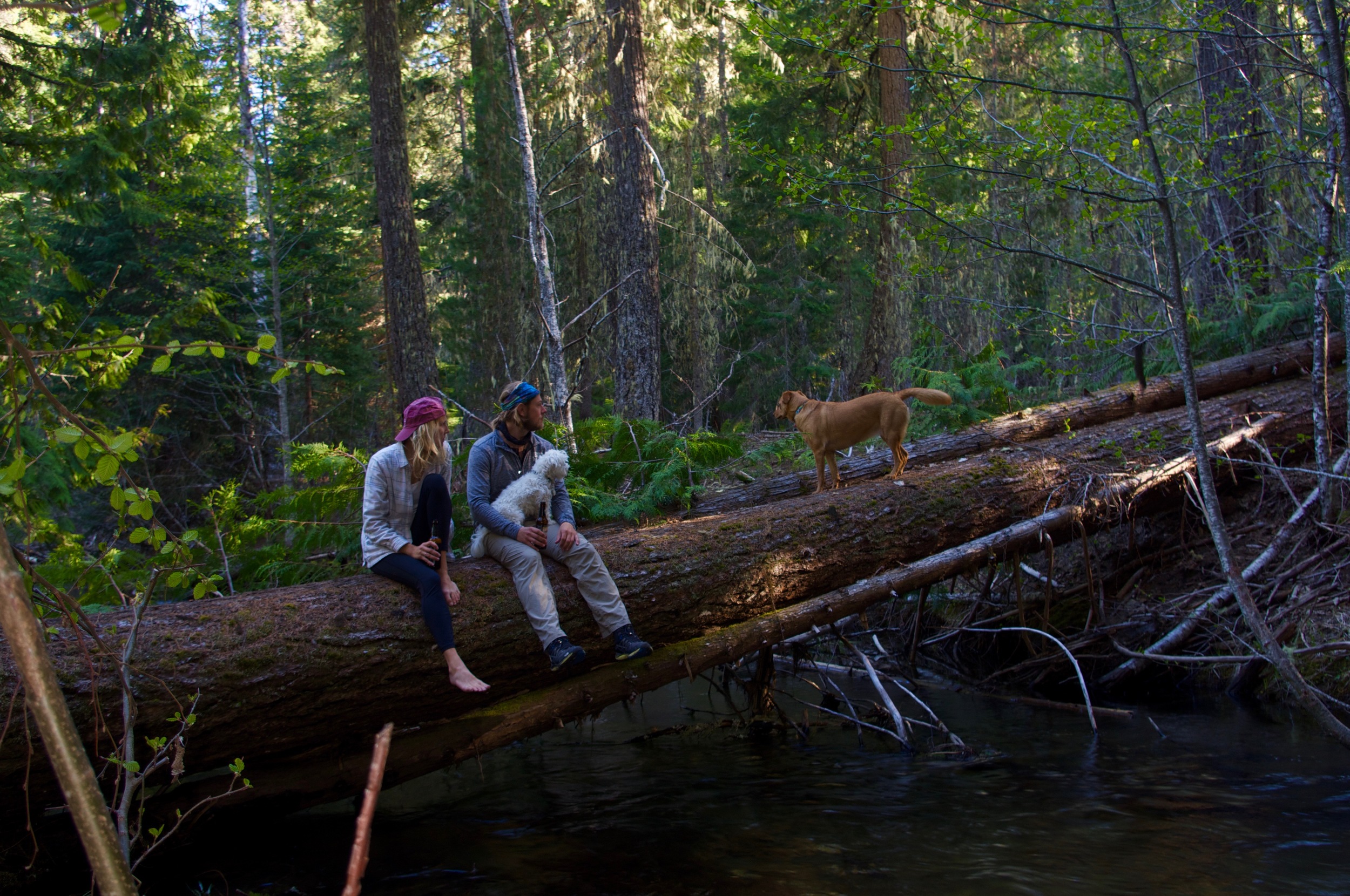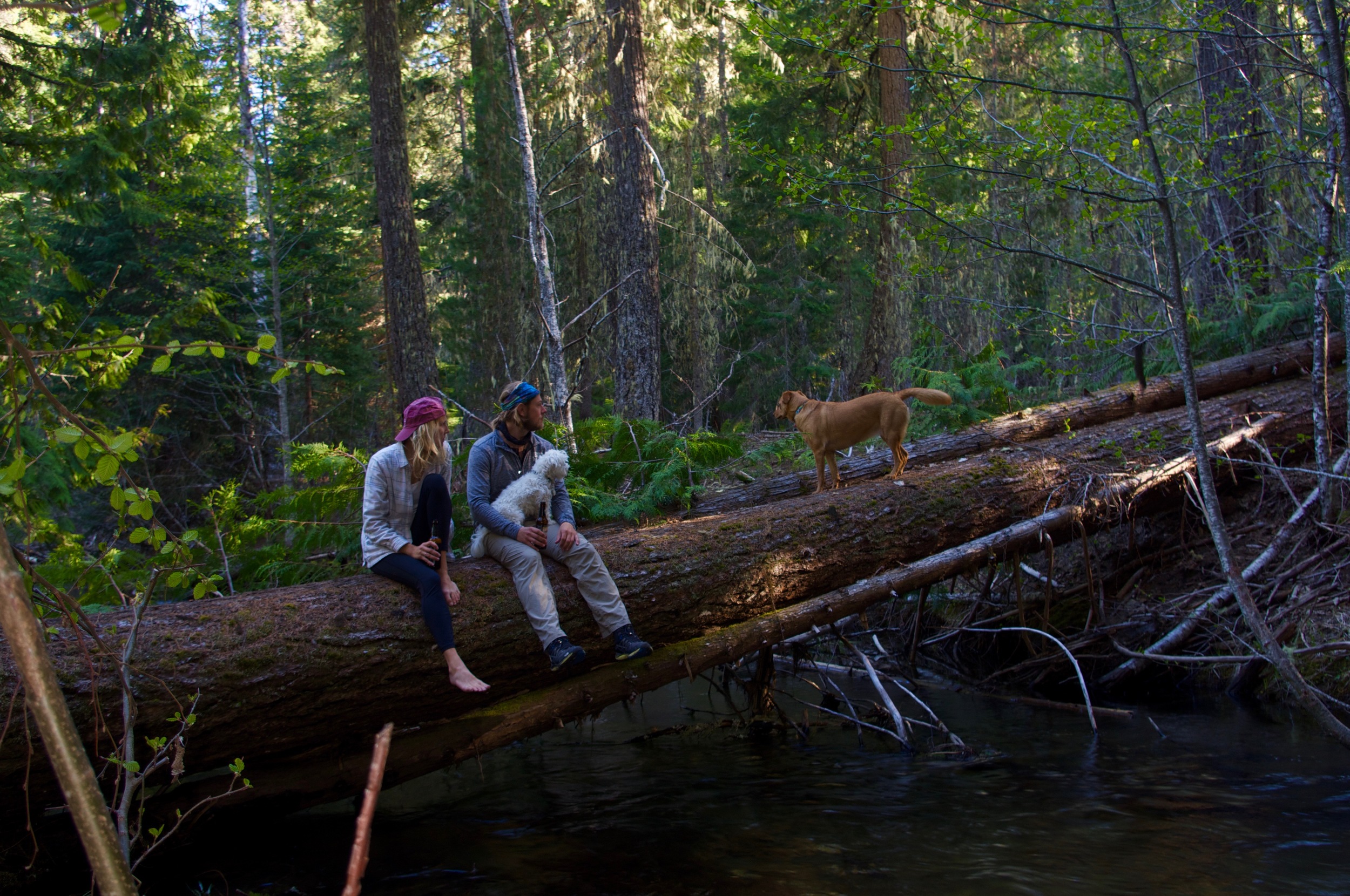 As mentioned before, we spent all of our last day here at Trillium Lake, one of nature's many DIY projects for humans. The manmade lake is enormous and offers one of the greatest views of Mt. Hood imaginable. We fished (unsuccessfully) and kayaked (successfully) and Mila spent the entire afternoon chasing ducks and ruining all of the other fishermen's day. It was a good time outside.
No more than a mile from Trillium Lake there is an abandoned airstrip notorious for its free camping and "noisy" occupants or "trashed" sites. We knew about this place from the day we got to Government Camp, but after reading the reviews we didn't think it would be worth it to camp there. However, after driving past many of the sites while touring the area, we noticed that all of the campers were about our age. And they all had skiing and snowboarding gear. And it really wasn't trashy or noisy, but just crowded and full of nice people. We stayed (obviously), and met some other campers that gave us the DL on why everyone was here. They told us that Mt. Hood offers very cheap spring passes (~$109) for the last three months of the ski season, so many skiers and snowboarders from all over the place come to Government Camp for weeks to months, camping and skiing all day, everyday. Some people return year after year (this could definitely be in our future).
The next day, we woke up and headed north to visit Jory in Silverdale and then Bonnie in Seattle.