Oregon? More Like Boregon. (Not!)
Check out that author name, folks! Over four months in and I'm finally writing my first blog post. In my defense, I proofread all of Matt's blogs (which usually consists of laughing so hard I cry, followed by reminding him I'm the only one who thinks he's funny.) PLUS I add the photos. Isn't that the only reason you look at this blog anyway? Now that we're finally making the loooooooong drive to Alaska, it seemed like a good time to catch up on some blogging. Besides, if I'm writing, Matt won't make me drive. Now where did he leave off?
When we left Smith Rock, we didn't really have a destination in mind, just a few waypoints we wanted to see en route to Portland. After checking out every campground on this highway, we settled on Boulder Flat, a cozy campground on the Umpqua River (I bet you don't get adorable adjectives like "cozy" in Matt's blogs.) This place had everything you look for in a Pacific Northwest campground: Air that feels heavy and always smells like rain, blankets of moss to get caught in Bosley's fur and a river for Mila to bark at...but no drinking water. So we left. But after a successful two-hour search for water, we returned to camp and settled in for the night.
The following morning, we made the disappointingly short hike to Toketee Falls. It was a steep scramble to get to the base of the falls, and while we know she definitely would have accepted the challenge, we couldn't with good conscience allow Mila to attempt the scramble. We could have just admired the falls from afar, but where's the fun in that? I made the climb down first while Matt stayed with the dogs and then we traded places. The scramble to the base was more difficult than doing my taxes. But I don't do my own taxes. So it really wasn't that hard; it just required you to actually put some thought into where you placed your hands and feet. Full disclosure: While reading this aloud to Matt, he said, "At least my blogs have jokes." What's there to make a joke about? "You can literally make a joke about anything...like taxes." So there you have it.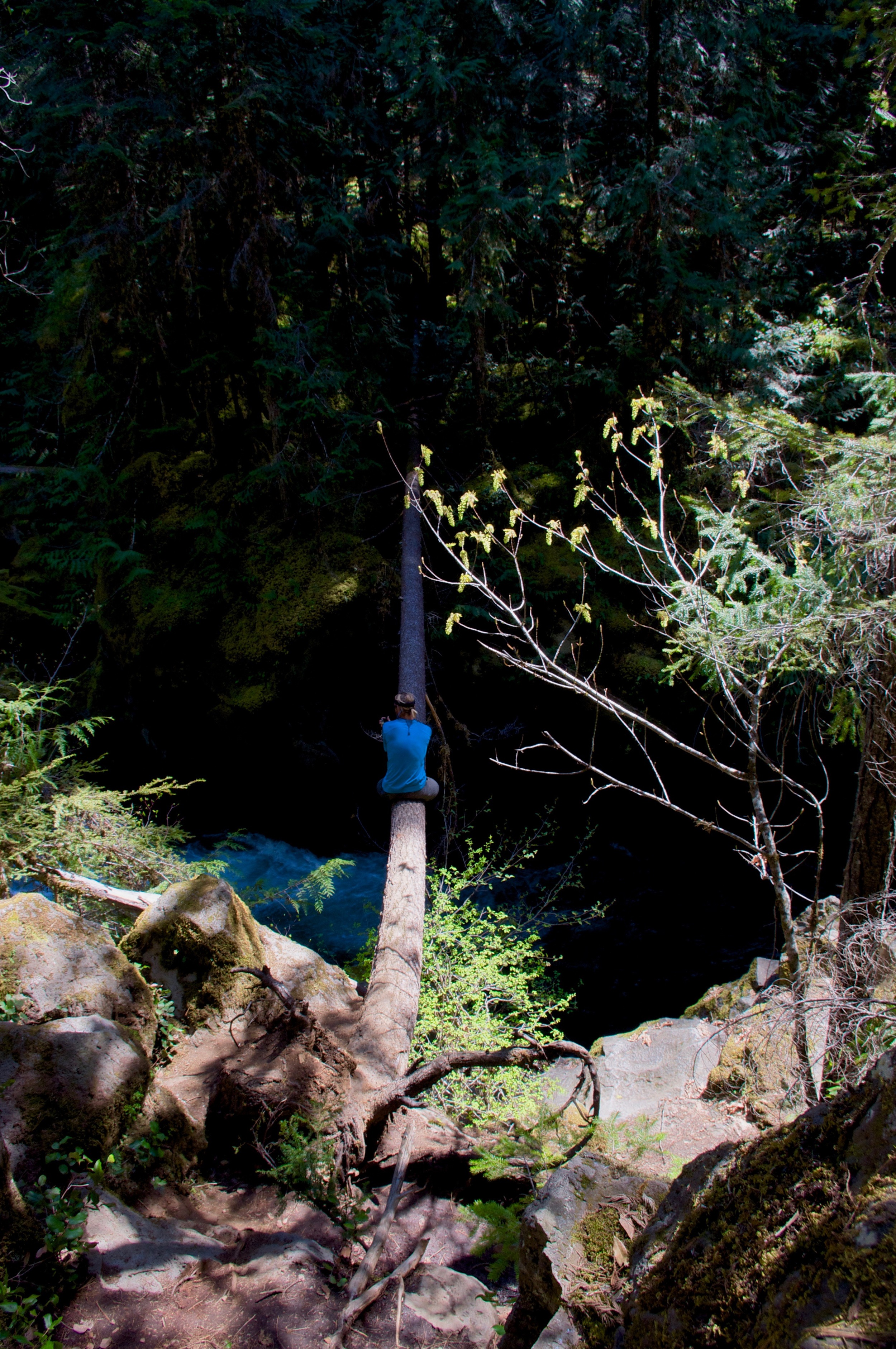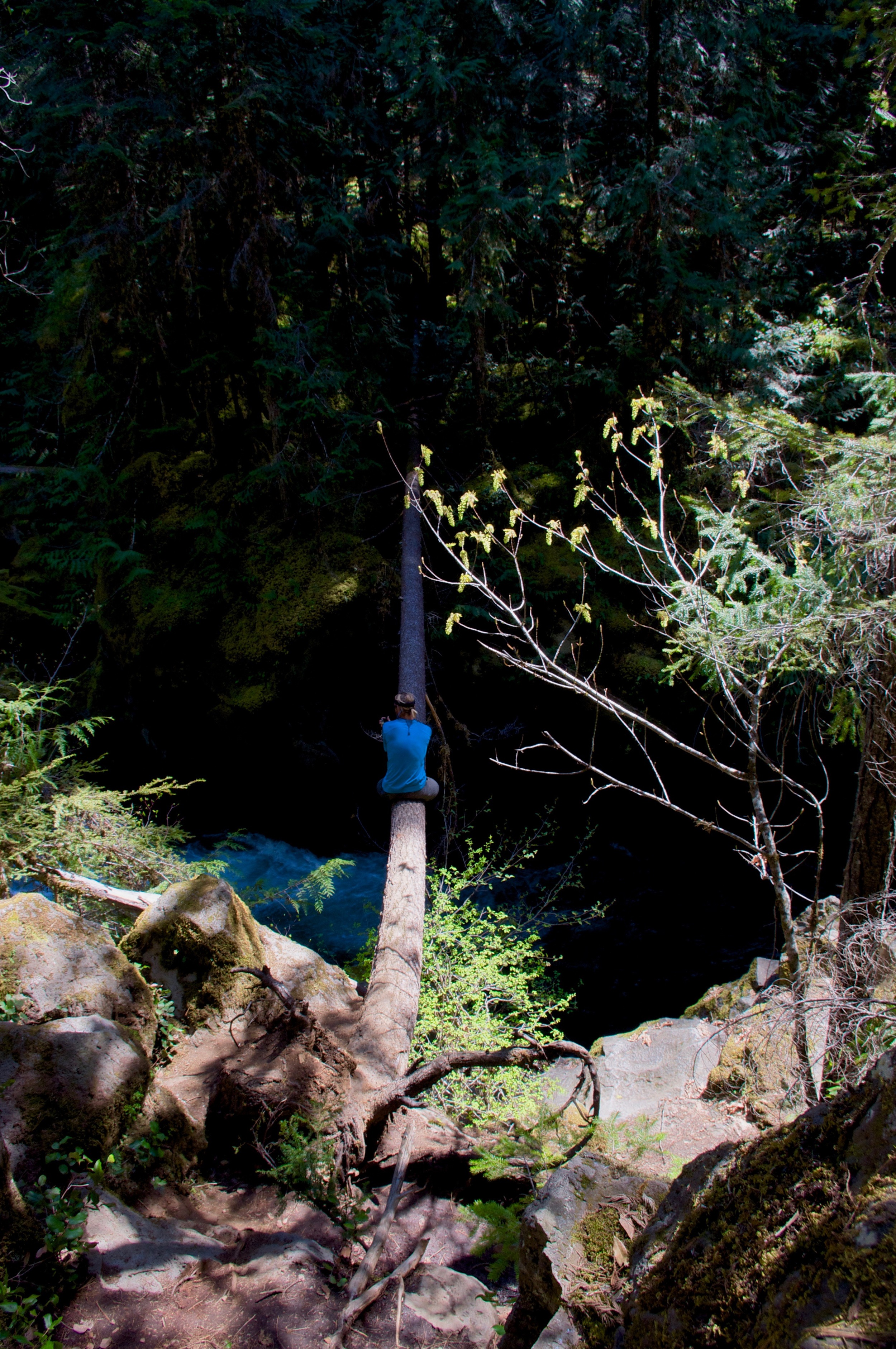 That evening, we had our second snake encounter. While watching Bosley roll around in the grass, admiring how darn tootin' cute he is - as I do at least 482 times each day - I suddenly remembered that dogs love rolling around in stinky stuff. Shit. I rush over to him and look down. Sure enough, dead snake. Needless to say, the kid got a bath that night.
We loved our cozy campsite on the river, but we had to keep moving. After seeing Big Sur, our standards for coasts were set pretty high, so the quaint fishing towns and picturesque beaches along the Oregon coast took us by surprise. We stopped by Thor's Well and Devil's Punch Bowl and - honestly - we were rather unimpressed. A place might look badass in photos, but when you see it in real life, surrounded by a fence and 30 tourists with selfie sticks, it suddenly becomes ordinary. But by now, we already know the best places are never the ones we intend to seek out, so we checked these two off our list and kept moving.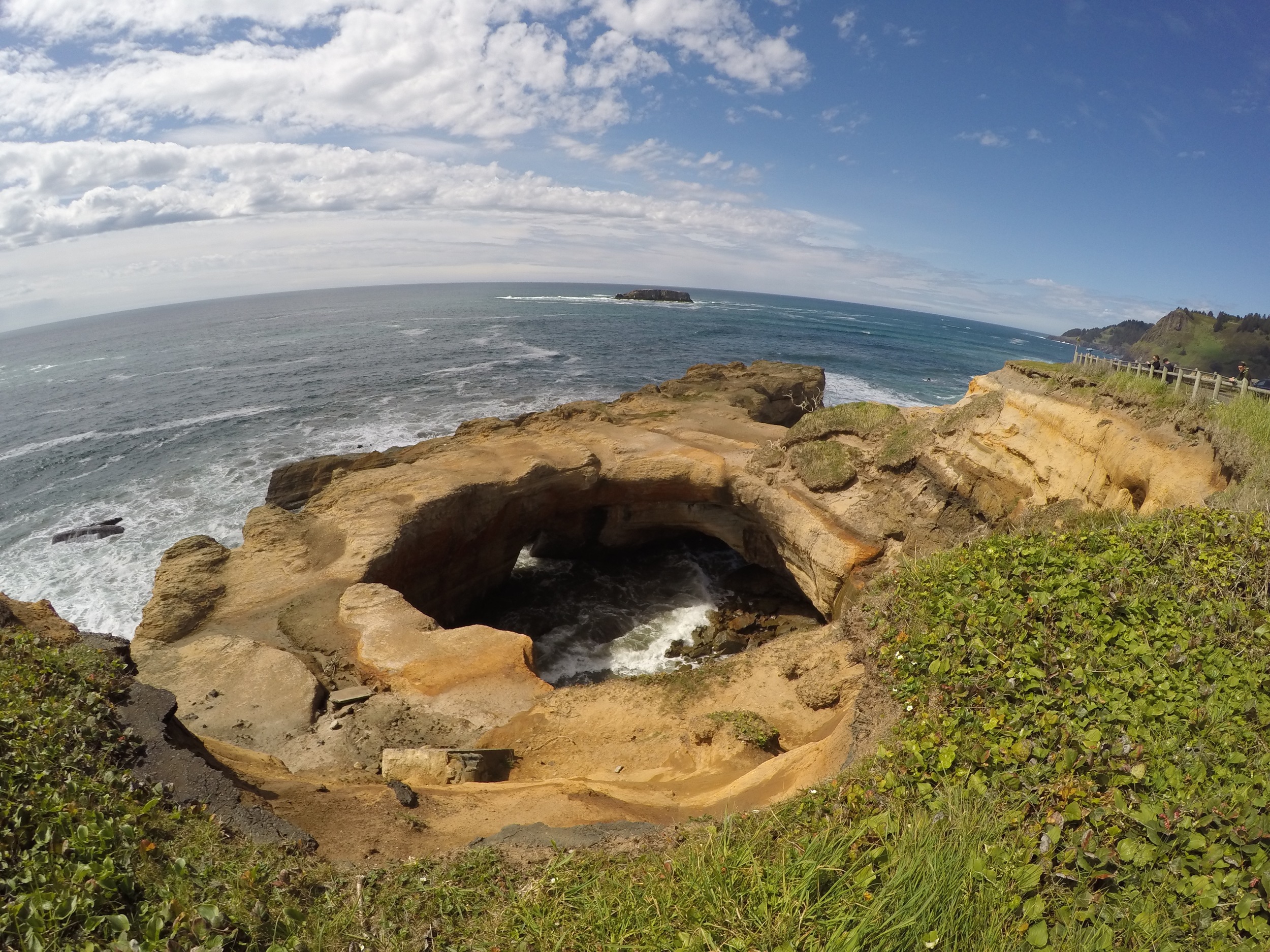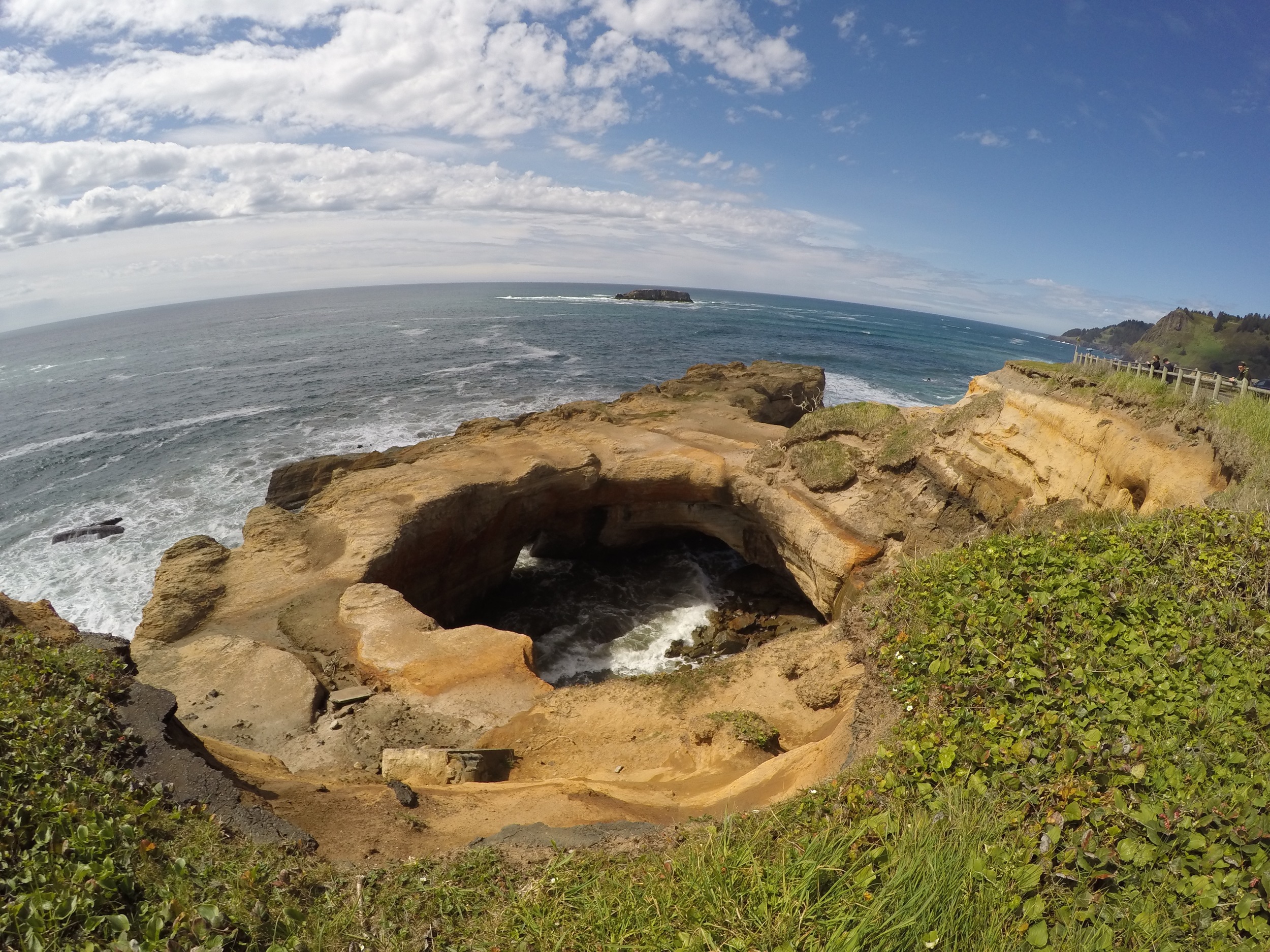 I should probably mention that at this point, many of our decisions were influenced by the Stanley Cup playoff schedule. We happened to be passing through Cape Kiwanda as the Red Wings were about to play their final game of the season and we had seen a lot of billboards for the Pelican Pub. It was right on the beach with a beautiful view of the cape, so we figured it couldn't be that bad. We got a couple beers and a flatbread and enjoyed a few hours of pretending to be normal human people while watching Pavel's last game.
The game ended and the sun was beginning to set. Bosley and Mila had patiently waited in the car while we were inside the pub - well, as patient as two dogs locked in a car against their will can be - so we rewarded them with an off-leash beach run. Now, it could be that I was pretty doped up on puppy kisses from the teeny tiny Australian Shepard I had just met, but I remember having way too much fun on that beach. It was getting dark, a pretty brutal rainstorm was moving in, and we still didn't have a clue where we were going to sleep - not to mention the Wings had just lost - but we didn't care one bit. (Okay, maybe the beer could have also played a part. Give me beer and puppy kisses and you could convince me O.J. didn't do it.)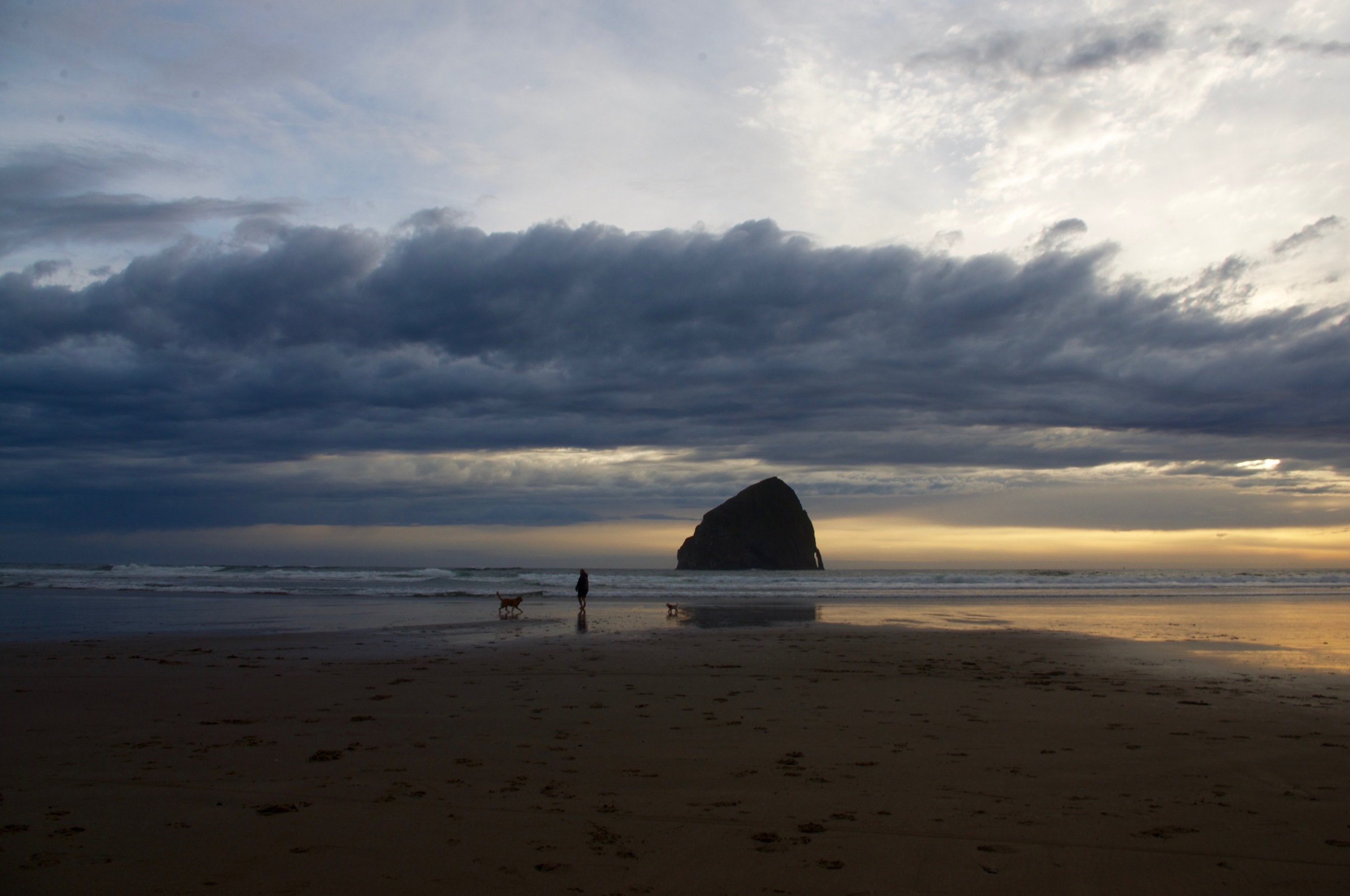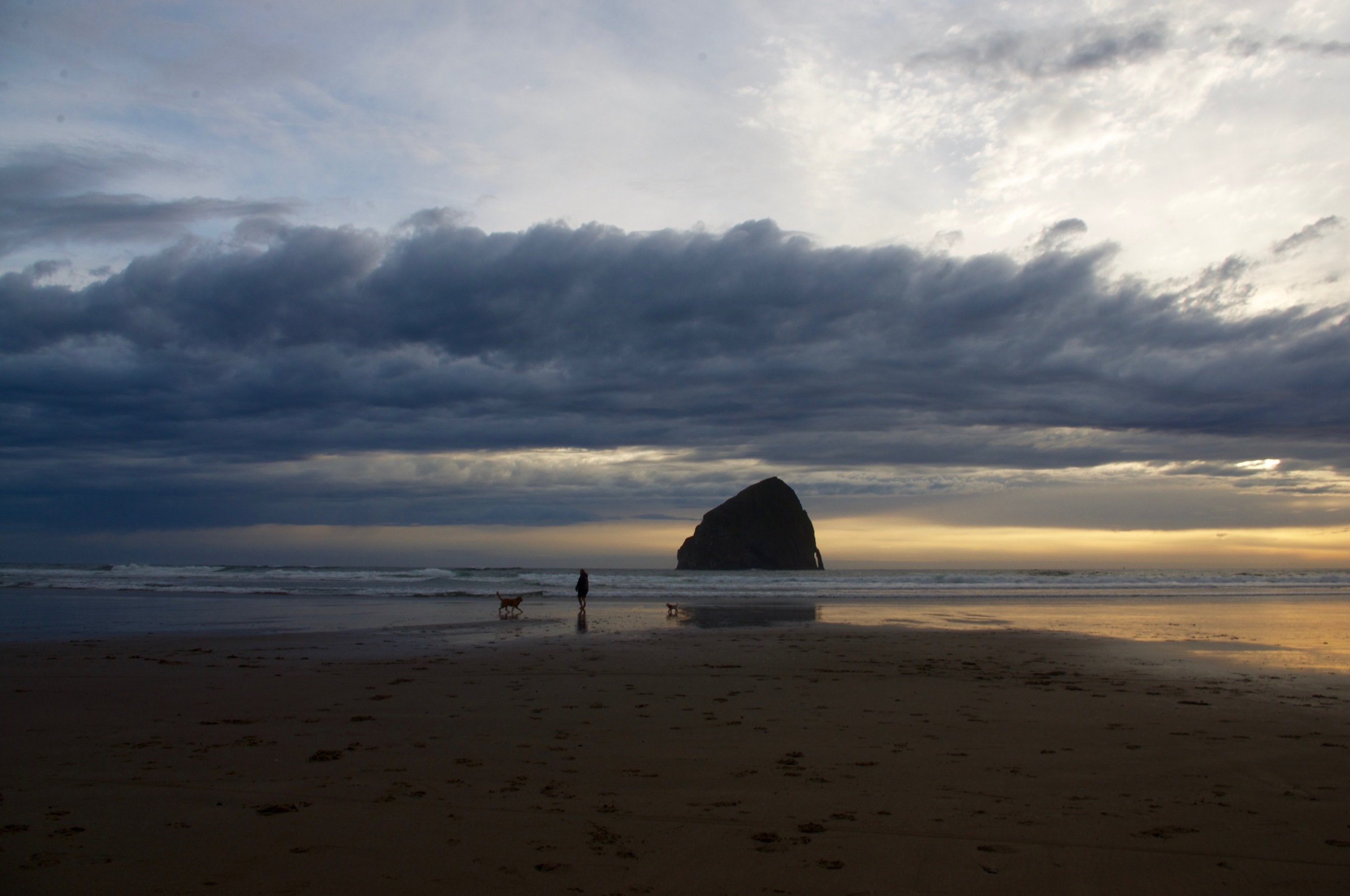 In no hurry to leave the beach, we ended up popping open the tent in a sand-covered parking lot in complete darkness. We sat on the tailgate - the tent shielding us from the rain - turned on the radio, cracked open a couple more beers and made chili while we watched the storm. The rain didn't let up until morning, but we fell asleep fast and hard, snuggled up close with the wettest, sandiest puppies around.